WANTON, Calif.-As fire roared down a hillside of redwood and Douglas-fir trees here in August, the Mccrary family readied itself once again to be a last line of defense.
The family, whose logging operation. Big Creek Lumber, stretches across roughly 8,000 acres in the Santa Cruz Mountains, positioned its water trucks and hoses, doused piles of redwood logs, dug fire breaks and drove bulldozers toward the flames. The McCrarys spent a sleepless night as the lightning sparked inferno threatened to engulf the land and with it a timber company that has long been a steward of the rural community.
Their efforts saved their sawmill, more than 200 jobs and a 74-year-old family legacy. They have an even bigger fight ahead: rebuilding to withstand the next, inevitably hotter and faster wildfire.
Fire and flood have been a drumbeat in the rhythm of life in the forests of Swanton, an unincorporated community along the rugged Pacific Coast north of Santa Cruz, but the August conflagration was of a different magnitude. The CZU Lightning Complex fires scarred two-thirds of the McCrarys' land, engulfed 16 homes and 20 outlying structures in the family compound and reduced much of Swanton Road to charred remnants.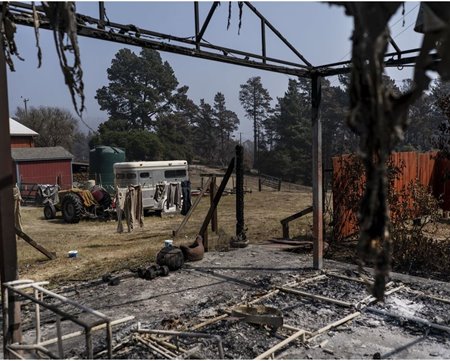 The McCrarys join timber companies across the state in the struggle to navigate the enormous financial burden of repairing the forests they rely on for logging. Wildfires, which have consumed a record 4.1 million acres in California this year, pose the greatest threat to the industry since the 2007-09 recession, which pushed lumber harvesting and sales to all-time lows, according to the California Forestry Association.
In the Sierras, more than 200 miles from Big Creek Lumber, logging outfit Soper-Wheeler Co. lost about 12% of its timberland in two fires since August. The company's president, Paul Violett, estimates the usiness will spend close to $5 million on recovery work. "We have never lost anything of this extent," Mr. Violett said. The fires forever changed the business: Soper-Wheeler will forgo replanting some of the burned areas and plant fewer trees elsewhere to leave more fire breaks. The result is less revenue-the new reality for many California timber companies.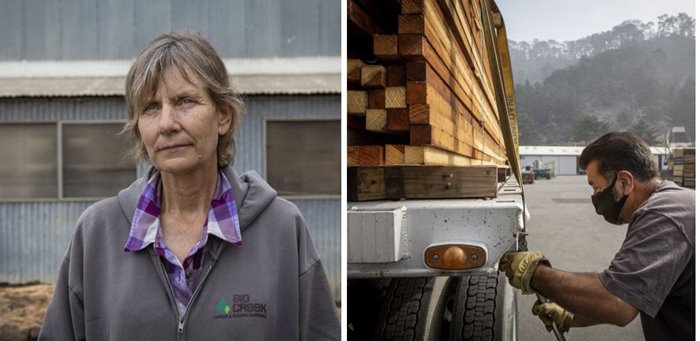 (Pictured left: Janet McCrary Webb, President of Big Creek Lumber)
California's logging industry has contracted for the past three decades, following environmental damage that was met with strict regulations that forced out many of the big clear-cutting loggers and left mostly family-owned operations with smaller budgets. Industry employment and production steadily improved since 2010, but haven't returned to prerecession levels, according to a report on California's timber industry by the University of Montana.
Experts expect timber yields to slump again, putting the industry on the edge even as the debate over better forest management through selective logging takes on new importance in the face of apocalyptic wildfire seasons.
(Pictured Janet and Steve Webb's cat walking through the burned belongings beside their home.)
As the air clears, the McCrary family is taking stock ot the enormous loss. Big Creek had adjusted to the pandemic, which caused timber sales for new-home construction to crater but brought a flurry of new business from do-it-yourself home projects. The fire is another test.
"This will be in the history books for the family," said Janet Mccrary Webb, 60 years old, president of Big Creek Lumber and daughter of its co-founder, Lud Mccrary .
"It's hard to imagine when you're looking at a lot of ash and bare ground what life is going to look like in 10 years." Swanton residents say they are looking to Big Creek to lead the recovery. The Mccrary family, with their heavy machinery, manpower and knowledge of the land have done the job time and again.
The McCrarys held ground in the 2009 Lockheed Fire that threatened Swanton, cutting fire lines through thickets of poison oak to help save the cabin where Tiffany Wolters and Stephen Wolters lived, and later rebuilt burned water lines and held back floodwaters, Ms. Wolters said. This time, the Wolters's home of 11 years burned. "As much loss as that was, the McCrarys saved that mill and saved a lot of jobs and the nucleus of the community," said Ms. Wolters.
For the McCrarys, saving the sawmill involved nearly two dozen employees who volunteered to spend 24-hour shifts firefighting. It means Big Creek Lumber can survive­ the modern zoning code wouldn't allow a new sawmill on the same perch overlooking the Pacific.
But the cleanup task is huge and costly, and insurance doesn't cover timberland losses, said Ms. Webb.
Founded in 1946 by brothers Lud and Bud Mccrary , along with their father and uncle, Big Creek Lumber is the last remaining mill in the region. After 74 years of profitability, the company says it can withstand some leaner years.
Founded in 1946 by brothers Lud and Bud McCrary, along with their father and uncle, Big Creek Lumber is the last remaining mill in the region. After 74 years of profitability, the company says it can withstand some leaner years.
The privately held company said it will make money from harvesting fire-damaged trees­which sell at a reduced price-from the family property and neighbors' land. But a long and tenuous period is likely to follow, when Big Creek will have to wait for a new generation of trees to grow.
They are going to have to invest in reforestation, and those trees take 60-plus years to grow," said Bill Stewart , a forest-management specialist at the University of California, Berkeley. "It's a big build, and the company has to do this all out of pocket. You are going to have decades of lower cash flow."
A timber mill is an ideological outlier in environmentally progressive Santa Cruz County with its hard-line regulations. It isn't an essential source of jobs in this region about an hour from Silicon Valley and with a mix of entrepreneurs, farmers, ranchers and winemakers.
Big Creek has had to use compromise and creativity to stay its course. The company cuts down 25% to 30% of the large trees on its property, a sparser harvest than other California timber companies and far less than local regulations allow, which cap logging at 60% of large trees. And Big Creek waits about 20 years before logging the same swath of forest again, which keeps the tree canopy and understory healthy. "We are in this for the long haul," said Ms. Webb. "You kind of have to have that mind-set if you are growing trees."
The McCrarys have faced blowback: Environmental activists in the 1990s chained themselves to logging trucks and vandalized Big Creek machines. But local land managers, ecologists and fish biologists say they are rooting for Big Creek's full recovery, for fear that the Mccrary land, if sold, would be divided into smaller parcels and sold to developers, posing a greater threat to the forests, watersheds and habitat.
Many of Ms. Webb's employees and much of the family, including her 92-year-old father, Lud, lost their homes. But her husband, Steve Webb , 61, said he saved the couple's 150-year-old house on Swanton Road using a water truck and a tractor to keep the flames at a distance. The ash left him unable to see clearly for days.
Two days after the fire, Mr. Webb and his son made the first pass down Swanton Road, sending word back to neighbors when they came upon a surviving house. That included Joanne and Jerry Piepmeyer , who had hosed down their home before driving out through flames. They slept on the floor of the lumber-mill office alongside the Mccrary family. "They are always the first ones there," said Ms. Piepmeyer.
(Pictured below Steve Webb looking out over the burned fields that line the family's driveway. He save the couple's 150 year old hous using a water truck and tractor to keep the flames at a distance.)