It was a powerful week for 60 leaders from 30 companies across the country who attended the Virtual LMC Sales Masterclass. Hosted by LMC and led by the Kellogg School of Management's Executive Education department from February 16th to 18th, attendees were given the opportunity to learn and develop professional skills from one of the top programs in the country.
For the seventh year, LMC partnered with a top three executive education institution to offer a concentrated leadership program. The session covered topics such as sales, marketing, finance, culture, innovation and negotiation, in addition to building skills in financial acumen, strategic planning and leadership. In this year's three-day program, leaders were immersed in highly interactive lectures specifically focused on sales that included small group exercises.
"I thought that the Kellogg program delivered on all fronts. When a three- day educational event passes by in a flash, for me that is a sign of being truly engaged & enamored," said TJ Shaheen, Vice President of Builders General. "Professor Craig Wortmann's delivery of knowledge, skill & discipline to our LMC attendees was energetic, insightful and impactful. Well done LMC and Kellogg!"
The Masterclass, led by Professor Craig Wortmann, took the attendees on the sales journey, where they learned how to do a self- evaluation of skills, handle objections, and develop the power of story-telling, among other skills.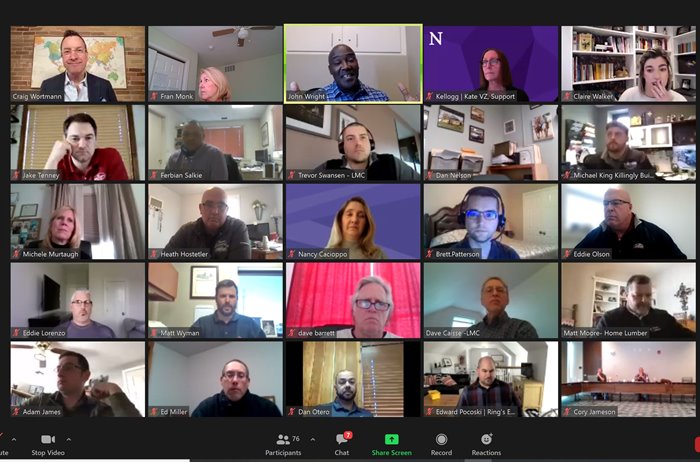 "It was one of the most educational and engaging training courses I have participated in. Craig's knowledge and passion for sales was invigorating! Craig and his team's construction and presentation of the course material through real-world scenarios provided solid take-away of tools I can use for continual improvement within our organizations and my daily life. LMC has provided first-class and unmatched series of education and networking since my attendance at the inaugural Wharton experience. This Masterclass has elevated an already high bar and I'm looking forward to more in the coming future." Said, Brian Kerkhoff, President of KA Components.
Joel Gelb, LMC Vice President of Stockholder Relations said "It was exciting to see seasoned sales people and managers learning current sales techniques from a first class executive education program. It reinforced my opinion that the best never stop trying to improve."
Discussions have already begun around next year's event as LMC continues to provide networking and educational opportunities for its members at the highest level. The "Sales Masterclass" is another shining example of how LMC works to elevate its dealers in their markets throughout the year.