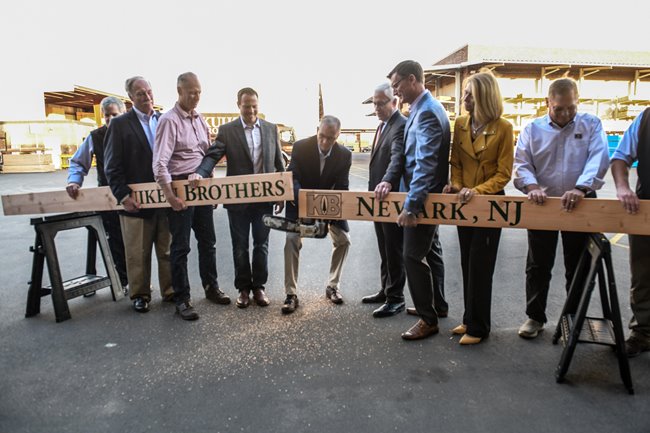 We congratulate LMC Dealer
Kuiken Brothers
Company on the Grand Opening of their new residential and commercial building materials distribution center on Doremus Avenue in Newark, New Jersey. The company celebrated the grand opening with a gala event that culminated in the ceremonial chainsaw cutting of a 2x8 length of lumber by President Doug Kuiken.
Hundreds of guests attended the event, which featured food and spirits from local restaurants and distilleries as well as tours of the new 10-acre facility.
"For many years, we have supplied a wide range of residential and commercial projects in Essex, Hudson, and Union Counties," Doug Kuiken said. "The Newark location will provide us with even greater access, allow for faster delivery into these markets, and will open up opportunities for new relationships to be established with building professionals in the region, including Staten Island, Brooklyn, Manhattan, and coastal New Jersey markets."
The new facility, located approximately one mile off exit 15E of the New Jersey Turnpike, features covered storage, a drive through warehouse with nine loading docks, an automated racking system and exterior covered racking, including storage sheds and cantilever systems. It is the company's ninth building materials center in the New York and New Jersey region.
"Throughout its history, Kuiken Brothers has carefully selected its expansion sites and Newark is another great example. The intersection of multi-modal transportation, proximity to promising markets and focus on customer service made New Jersey's largest City the right place for their ninth location," stated Chip Hallock, President & CEO of the Newark Regional Business Partnership. "When Kuiken Brothers increases sales of high quality commercial and residential construction materials, that means people are working and communities are rebuilding. That's a positive sign for our region which fosters more opportunities for our citizens."
See the full press release here.
Learn more about Kuiken Brothers Company at
www.kuikenbrothers.com