LMC dealers have always been leaders in their communities and during these unprecedented times, it is no different.
September 2, 2020 Doug Ashy Building Materials steps up to help after the Hurricane.
On Monday, August 31, two PGT Innovations semi-trailers loaded with the relief supplies set out on the 900-mile journey from Venice, FL to Lake Charles, LA. Arriving early morning Wednesday, September 2, the two truck drivers and seven additional team members from PGT Innovations, alongside 18 employees from Doug Ashy, unloaded and staged the supplies to create a drive-thru loading route through the Doug Ashy Building Materials' parking lot. The route created an efficient and organized distribution process, while also supporting COVID-19 social distancing efforts to protect volunteers and those receiving the relief supplies, as the recipients remained in their vehicles while the relief supplies were loaded for them.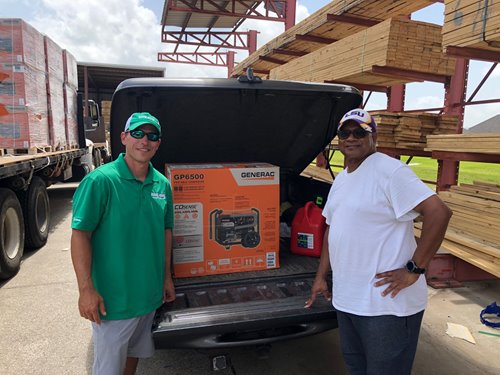 Between 8:00 a.m. and 3:00 p.m., more than 750 area residents drove through the distribution line while supplies lasted. Commodity items and non-perishable food items were also made available to the public. The remaining quantity of supplies – primarily water and tarps – were provided to residents of the Cameron Parish, LA area, where Hurricane Laura made landfall early on August 27.
"It's truly remarkable what PGT Innovations has done," shared D.J. Ashy, President of Doug Ashy. "Words can't even explain how gracious we are that they came and helped with this event. It's terrible to see what's happened out here, but it's uplifting to be able to do this for people."
Learn more about Doug Ashly Click Here!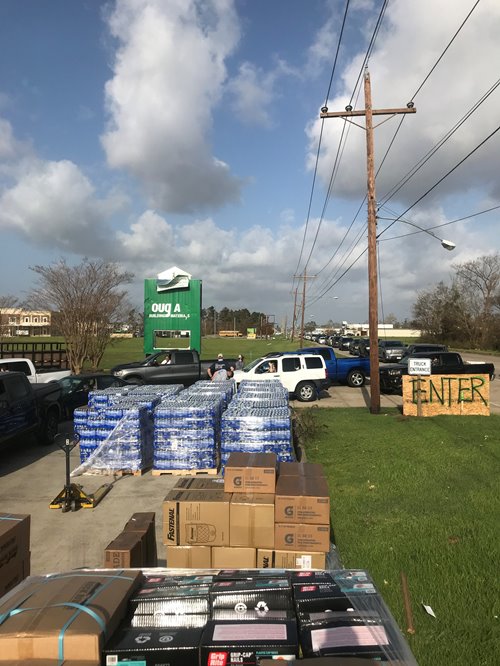 August 12, 2020: Scouts salute Heller Lumber for its decades of support!
Two hundred and fifty -- that is the approximate number of Eagle Scout projects that Heller Lumber Company has supported since 1965. On Wednesday, Aug. 12, the North Woods District of the Boy Scouts of America Pathway to Adventure Council honored members of the Heller family at a breakfast fundraiser in the Arlington Heights Metropolis Ballroom, attended by community organizations, village and Scout officials.
In his welcome address, special guest Arlington Heights Mayor Tom Hayes stated that he was honored to be present and to help recognize the Heller Lumber Company and family for their generosity and dedication to Scouting.
"There is no greater example of Scouting support than that set by the Heller family," he said. "It is a legacy for other Arlington Heights families that includes character, hard work and service to others. And that's what Scouting is all about."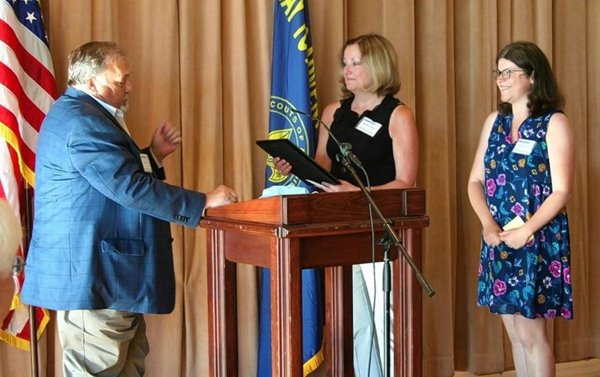 (Pictured is Bill Heller accepting recognition)
Helping boys to earn their Eagle badge, Scouting's highest rank, began in the '60s with Bob Heller, who was a Scout. His son, Bill, became an Eagle Scout in Troop 135 in 1971.
Later, he joined his father in managing Heller Lumber Company. Bob and Bill Heller's dedication and service to the Eagle program included reading the Eagle candidate's project proposal, giving construction comments, recommending the types of lumber and hardware to be used and making material donations.
Learn more about Heller Lumber Click Here.
August 12, 2020- The Brand Vaughn Lumber Team partners with HomeAid Atlanta
The Brand Vaughn Lumber Team team joined HomeAid Atlantaand other amazing volunteers to paint, pressure wash, landscape and complete many other outdoor projects around the expansive Positive Growth Inc. campus. As part of our 100 Families in 100 Years initiative, we are committed to helping 100 families in our area before our 100-year anniversary in 2046.
Learn more about Brand Vaughn Lumber visit
https://www.bvlumber.com/
July 31, 2020-
Shepley Wood Products and Barnstable Brewing Partner to Create "Civic Rent", a Beer for a Good Cause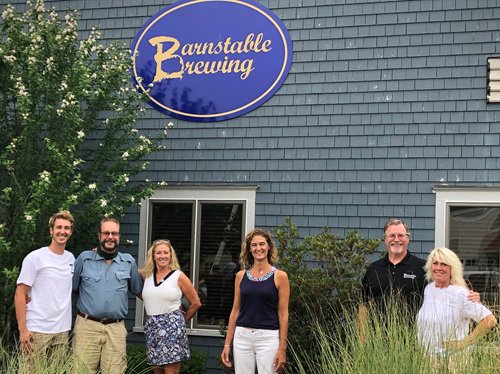 (Pictured Left to Right) Niles Shepley, Tony Shepley, and Lorraine Shepley, of Shepley Wood Products. Alisa Magnotta, Housing Assistance CEO. Peter and Ann Connor, Barnstable Brewing in Hyannis.
A local lumber and building materials supplier and local brewery are teaming up to raise funds for Cape Codders who have been impacted by the COVID-19 crisis. Shepley Wood Products and Barnstable Brewing have partnered to create "Civic Rent", a beer that goes beyond great brewing. Their goal is simple – bring our community together and pay it forward to our neighbors with every pint.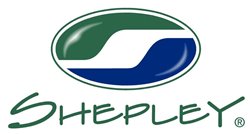 A portion of the proceeds from the sale of Civic Rent will benefit the Workforce Housing Relief Fund, established by Housing Assistance Corporation (HAC) in response to the COVID-19 crisis. Launched in April, the fund provides emergency assistance with rent or mortgage payments for year-round Cape and Islands residents who have been financially impacted by the pandemic.
"We are grateful to Shepley Wood Products and Barnstable Brewing for partnering on a product that will enable consumers to give back and make an impact at the local level," said Housing Assistance CEO Alisa Magnotta. "Civic Rent is a statement about the power of community and the important role all of us play in ensuring our neighbors have access to safe, stable housing which is needed now more than ever."
Shepley Wood Products and Barnstable Brewing are two Cape Cod businesses that understand the importance of giving back to their community. Barnstable Brewing has been a supporter of Shepley's annual Shepley Wide Open, a charitable golf tournament which last year raised over $50,000 for local charities. When Shepley decided to postpone its 25th Shepley Wide Open until next year, both Barnstable Brewing and Shepley agreed that together they could come up with an innovative way to serve our community and continue the spirit of giving, even during these uncertain times. Peter Connor, co-founder and President of Barnstable Brewing adds, "We thoughtfully named our Brewery after the community we intentioned to immerse ourselves in. When it was clear that we could not participate in the golf tournament like last year because of Covid-19, we immediately collaborated with Shepley to put together something timely and pertinent to help those who need it in these tough times. There is synergy in the two companies approach to helping the community."
Learn more about Shepley Wood Products
Click Here.
White's Lumber and Building Supplies
, an LMC Dealer since 1961, recently donated a $1000 check to the Watertown Urban Mission to help restock its food pantry. The generous donation will help keep food on the table for community members in need.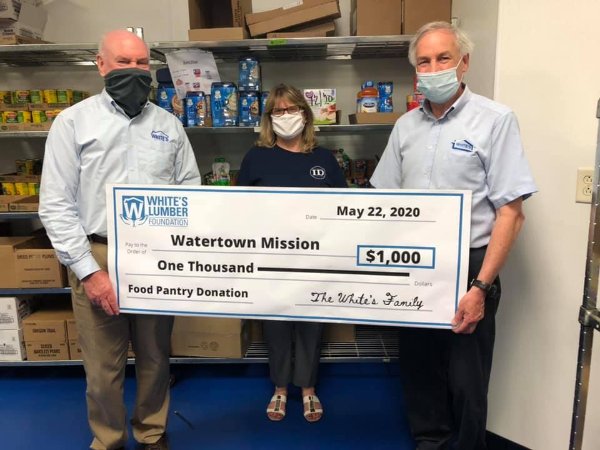 The White's Lumber Foundation also raised funds and awareness for the Thousand Islands Area Habitat for Humanity. Brad and Ted White presented a check for $4,000.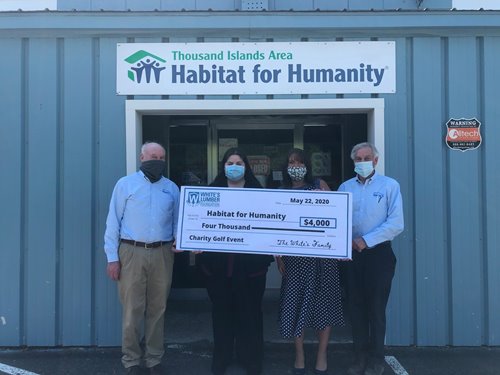 CLICK HERE
to visit White's Lumber and Building Supplies website.
Shiver Lumber Company
, an LMC dealer since 2009, showed their support and appreciation to local law enforcement by donating Lysol and gloves to help keep them safe as they work to keep the community safe.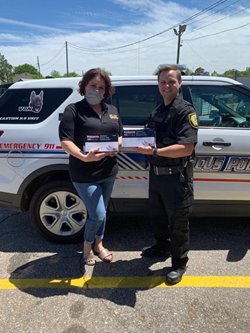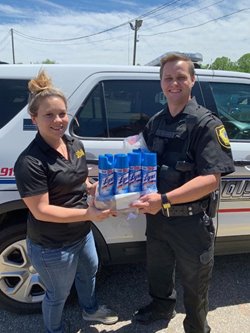 On July 1st,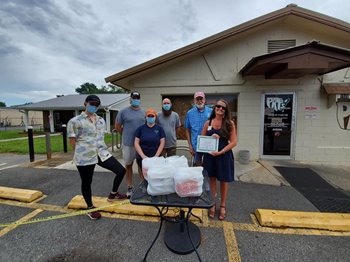 Shiver Lumber donated meals to Pat's Place restaurant. Pat's Place has been so good about feeding the local community, the folks at Shiver wanted to feed them and provided meals for all of Pat's employees.
Shiver Lumber also delivered hand sanitizer to local businesses on behalf of the Sumter County Chamber of Commerce.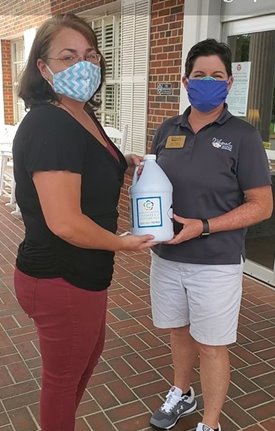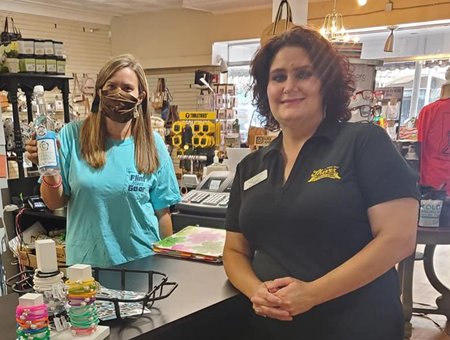 CLICK HERE
to Visit Shiver Lumber Company's Website
Shepley Wood Products
of Hyannis, MA
,
an LMC Dealer since 2006, teamed up with KAM Appliances on May 7 to show their appreciation for the people who have been tirelessly working at a local supermarket by delivering 75 lunches. It's their way of saying a big "thank you" to all who are working to serve others and the community during this difficult time.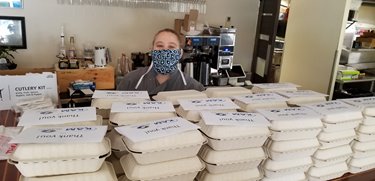 CLICK HERE
to visit Shepley's website.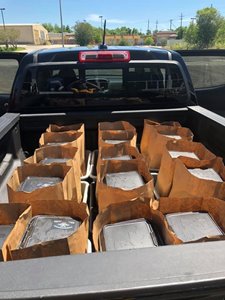 On May 2,
Dash Lumber & Supply
of New Orleans, an LMC dealer since 2001, delivered 100 meals to front line hospital workers at New Orleans East Hospital. This a great way of supporting local restaurants and local health care workers at the same time. Great job by Dash Lumber!
CLICK HERE
to visit Dash Lumber's website.
Opdyke Lumber Co.
, an LMC dealer since 1994 based in Frenchtown, NJ, recently helped provide thousands of pieces of personal protective equipment (PPE) to local hospitals. President Jack Opdyke was contacted by a good friend of his, Jeff Ryan of Leaf Logistics.
"I've known Jeff for years", says Opdyke. "He's an incredible logistics guy, he can get anything… by ship, by rail, by everything. Jeff told me he was able to acquire 20,000 N95 masks and wanted to donate them to hospitals in New York City, but he needed a truck for delivery. I told him we would help"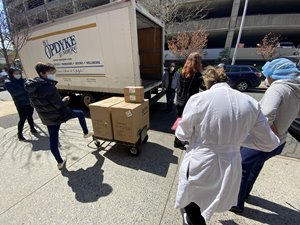 Opdyke's son, John jumped behind the wheel of one of the company trucks and drove to pick up the masks.
After calling ahead to make arrangements, John and Jeff stopped at six different New York City hospitals on April 11th where they were greeted by some very thankful medical workers. The hospital workers met them outside and helped unload the much needed masks.
"All I did was provide the truck," says Opdyke. "John was gone all day long with Jeff and they were the ones who really made it happen. I'm just glad I could help."
CLICK HERE
to visit Opdyke Lumber's website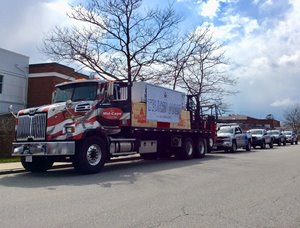 Mid-Cape Home Centers
in South Dennis, MA has been an LMC dealer since 2012. On April 16th, they led a display of appreciation for medical workers outside Cape Cod Hospital. The Mid-Cape trucks, one wrapped for First Responder appreciation, another for Military Veterans and the third being a large boom truck, hoisted flags and thank you banners, flashed lights and played motivational music to show support for and put a smile on the faces of their local medical staff.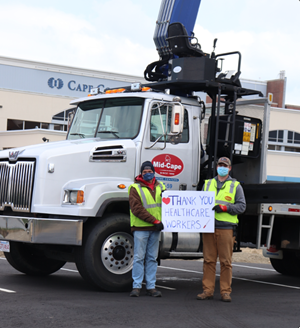 The display of appreciation took place because all of the Mid-Cape team members recognize the medical staff here in our community as heroes, not only during the Covid-19 pandemic, but every single day. They are proud to be able to show support for these tremendously brave, selfless, caring people, putting their lives on the line to help the Cape Cod region come out of this pandemic stronger than before.
CLICK HERE
to read Mid-Cape Home Center's press release
Alki Lumber
recently teamed up with one its contractors to help some of Seattle's frontline workers. On April 10
th
, Alki and one of its long-time customers, STS Construction, provided lunch for all the employees at two local grocery stores.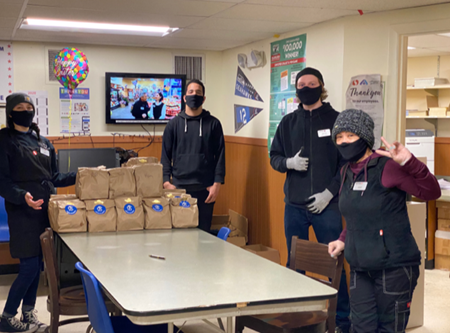 Grocery store workers are considered essential employees during the coronavirus outbreak and they have been working hard every day without the luxury of being able to shelter at home.
Alki and STS Construction wanted to lend a hand so they bought the bagged lunches from Husky Deli and drove the meals straight to the stores where the workers were overjoyed. 100 bagged lunches were handed out as a way to say thank you. The grocery store workers even sent a thank you letter which you can read below:
"To our local neighbors and businesses, Alki Lumber, STS Construction, & Husky Deli,
We'd like to give you guys a huge THANK YOU for pitching in to provide our staff lunches last week. Not only was it a great gesture for us, but also supporting local business at its best! Husky Deli, Alki Lumber, and STS Construction are an iconic West Seattle business and all of you are great examples of what we all strive to be. We announced the gesture over our intercom system a few times throughout the day to cheers from customers and staff! We can't thank you enough, and kudos for thinking of such a great way to contribute and it made our day here at the store as well.
THANK YOU ALL, you're awesome!
From all of us here at West Seattle Thriftway"
Alki Lumber
, an LMC dealer since 2011, plans on donating more lunches in the future; but they aren't the only LMC dealer doing good deeds for frontline workers.
CLICK HERE
to visit Alki Lumber's website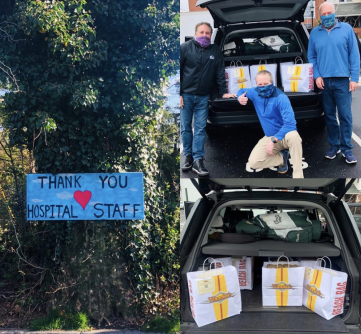 In New Jersey,
Builders General
, is also stepping up to help by donating lunches and dinners to medical workers. Over the past two weeks, Builders General has dropped off 150 meals at three different New Jersey medical centers. It's their way of saying thank you to the medical community for its tireless efforts on the front lines.
Builders General has been an LMC dealer since 1999. Phil Shaheen, President of Builders General says you can see how extremely grateful and thankful the medical workers are when he drops off the meals. Shaheen plans on doing more meal deliveries as soon as he can arrange it.
UPDATE
: On April 22, Builders General returned to Monmouth Medical Center donating even more meals to frontline medical workers there.
CLICK HERE
to visit Builder's General website.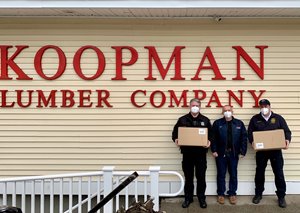 Koopman Lumber and Hardware
of Whitinsville, MA, an LMC dealer since 1984, is pitching in to help first responders during the Covid-19 outbreak. The company has made two donations of N95 masks in the past month. On March 19, they received a shipment of masks that were meant for their store shelves. Instead, Koopman immediately reached out to hospitals and first responders and the masks were sent to local health care facilities.
On April 9
th
, Koopman handed off 500 N95 protective masks to the Uxbridge Police and Fire Departments. Both departments said Koopman's act of kindness will allow them to safely continue to provide services to the community. Unfortunately, Koopman does not know when or if they will be getting more masks in the future, but they made sure to get these masks where they were needed the most.
See more at
koopmanlumber.com.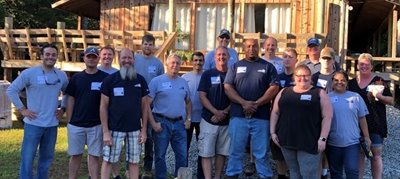 Brand Vaughan Lumber Company
in Georgia has launched an initiative to help 100 families in their region by the time they reach their 100th year in business. They call this project
100 Families in 100 Years
. The goal is to pour back into the communities that have given so much to Brand Vaughan. The company has been very strategic and focused in their efforts to work with families and organizations that share its values and vision.
Since 2016, Brand Vaughan has helped 12 families or organizations by building homes, sponsoring charitable events and helping raise money for those in need. They are just getting started and plan to continue giving back to their communities for many years to come.
READ MORE
about Brand Vaughan's Serving 100 Families campaign.
If you are an LMC dealer making a difference in your community, let us know and we'll tell your story, Contact LMC Communications Specialist Conville Harper at
charper@lmc.net
or
610-293-7992